I got my drivers license when I was 16 years old. That was 47 years ago. I've always enjoyed driving and I have driven thousands and thousands of miles since I learned on our family's two cars – an old push button Rambler and a stick shift Chevy Nova – both without seatbelts and not-so-adjustable seats! I bet some of you have no idea what a push button car is and maybe have never heard of a Rambler. Well, the push buttons took the place of the gearshift! I can say I dearly loved that old Rambler.
Once I had graduated from college, I'd pack up my car on the spur of the moment and take off to visit family and friends. There wasn't much to keep me from traveling freely. I loved driving through the mountains of West Virginia and Pennsylvania. Driving through big cities like New York City and Pittsburgh were more challenging and scary, since I'm a small town girl. My town had no stoplights, bridges, four lane highways, tunnels, or any skyscrapers; just a stop sign here and there. At the time I wasn't too bright about reading maps and following road signs, but once I got the hang of it, I could arrive to most places without much hesitation.
When I adopted my first son, Derek, we traveled extensively. I don't know how many times we drove cross-country but we loved to travel together. He was observant and we'd stop to enjoy scenery. Even after Rusty and Ben joined my family, we continued to travel. They weren't so much interested in looking out the windows but I figured a way to entertain them with cassette tapes and asking Ben to judge the volume by asking – "Can you hear that back there, Ben?" as his wheelchair was belted to the floor behind my driver's seat. (I didn't have a radio in my vehicle at that time since I couldn't hear it.)
I've had my share of traveling woes over the years. I've had flat tires, an exploded muffler, an empty gas tank in the middle of nowhere in Montana (gas gauge was off), I dragged a tailpipe through a town without knowing until I noticed people were pointing at my car, and, and, and…
The first big incident is when Rossie and I traveled from West Virginia to my parents' home in Duke Center, Pennsylvania, for Thanksgiving. We had a wonderful visit but on our return trip to West Virginia, we became stranded in a snowstorm. I had to pull off the road because I couldn't see due to the blizzard. We were able to find a church that was open and had set up a place for people who were stranded like us to spend the night. That night Rossie and I …and our dog…were grateful for the shelter. Fortunately, the next morning we were able to continue on our journey home.
Another disaster was when Ben, Alan, Derek, David and I were on our way to Los Angeles. The radiator overheated and caused us some headache. I pulled over, got out, and waved at everyone who went by. Finally a friendly trucker stopped and assisted by calling a tow truck company. It was hot and dry. I tried to keep everybody hydrated while we waited. Once the tow truck arrived we thanked the trucker who went on his way.
"What seems to be the problem here, lady?" asked the tow truck driver.
"Seems like the radiator," I said as it whistled and dripped fluids. "The biggest problem is my four sons in the van in wheelchairs." I continued.
"We'll have to get them out but I don't know who to call to help with this," he said.
I showed him there wasn't room to get them out because of a retaining wall. I explained their chairs were belted to the floor, each son had on a seatbelt, and they were safe as they were. I repeated this a couple of times and despite Derek's heavy breathing, I persuaded him to tow the van with us inside. Off we went to a garage with the front end of the van lifted high. Everyone leaned to the rear, bouncing around as if we were on an amusement park ride. After a new radiator was installed, we continued our journey to Los Angeles.
The last of my long road trips was when Kyle was a member of Starfire, the high school church choir. Kyle could not have toured with the group during the summer had I not been able to drive the wheelchair van and follow, or be sandwiched between, the caravan of tour buses. Do you know how fast tour buses go? Yikes! Faster than I normally drive. There were two tours, the Rocky Mountain tour and one the next summer that went up the west coast into Vancouver, Canada. This way of traveling was different because we were with a large group of people who needed to stay together and on a schedule. I couldn't mosey along enjoying the scenery, which I love to do.
Things have changed and I do a different kind of driving today. Mostly I drive locally within a 30-mile radius to the grocery store and pharmacy, and to take my family here and there. Last weekend I drove Sergei to the reservoir to fish and then picked him up when he was finished. I picked up Donald after his five-day stay at camp. I've driven Kyle to Stanford for a medical appointment and to school a couple of days when his chair batteries were low. Alan had to get to a wheelchair appointment. Emily had to get to church and back for choir practice. (Tomorrow I will get her from gymnastics while her mom is at work.) Thursday I drove Sergei to San Francisco airport for his trip to Houston.
Yesterday morning I was up early to drive Kyle and his friend to work. Two unplanned trips were because Peter's wheelchair was on the blink. I helped him transport to work a larger chair that wouldn't fit in his van. I went back and got the chair when he finished. When Kyle works, I usually fall asleep on the couch and wait for a phone light to flash to let me know Kyle is finished working and needs a ride home. This can be at any insane hour between 11:30 PM – 1:30 AM! I'm glad the 10-mile drive is a fairly direct route. Of course there are stop signs and stoplights but close to no traffic at this hour. It's a time of day that I normally don't travel. I see wildlife – raccoons, opossums, rabbits, skunks and black cats – that love to invade my gardens! Sometimes the stars are out and the sky is clear. The real treat last night was viewing the "supermoon" as I drove to bring Kyle home and put him to bed. I'm so happy I don't often need to drive Peter any more because his work hours at the movies are something I just couldn't handle!
Today,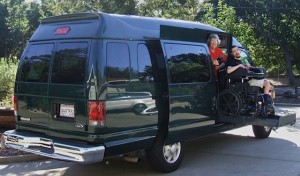 I don't drive a push button Rambler or a stick shift Chevy. I have two nice wheelchair vans: an extended body, high top 350 Ford equipped with a lift and wheelchair tie downs; and a Dodge Grand Caravan with a lowered floor and a wheelchair ramp.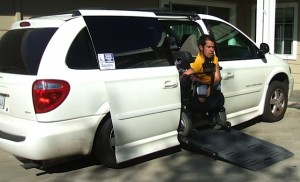 When the boys were in public school, most of them had transportation if they received support from the special education departments (some could have used buses but chose to NOT take advantage of this because it was embarrassing or too time consuming). Even if they had transportation to the regular school day classes, there still were times when they'd need to be driven in the wheelchair vans for various field trips, dances, musical performances, and so forth. I remember when Tim was playing snares there were early morning rehearsals and many fall competitions and of course carpooling was not an option. The same for Kyle when he was in Madrigals and the holiday season was upon us. Sometimes this music group had more than one performance a day between November and January. I needed to schedule everyone's appointments around Kyle's Madrigal times and manage to be home to meet the buses in the afternoons. Sometimes I would have to drop him off and then go back and pick him up when he was finished.
Basically the same was true with church activities for choir, youth retreats, confirmation trips, and activity nights. This continues today, especially for Kyle who likes to go out and about for various social outings. Frustration can mount if I am not available to drive but we try our best to come up with a solution. Some of Kyle's closer friends have gained my trust to drive our vans so he can participate in more outings. You see, carpooling just isn't an option for my sons.
By now you must realize this is not just a matter of driving to a place and letting my sons open the door and hop in and out by themselves. These are wheelchair vans and the driver has more work to do than simply drive. Most of the time, unless a friend is along, I must open the door, lower the lift, load wheelchair on the lift, put the lift up, secure the wheelchair to the floor with tie downs, jump out, store the lift and close the door. Then I climb (I mean climb because I am short and these are large vans) into the driver's seat and off we go. When we arrive to our destination, I slide out from behind the steering wheel, walk around the van, open the door, put the lift down, climb in to undo tie downs, let my 'rider' out, put the lift back up and once again climb into the driver's seat.
I've not mentioned the mechanical problems that can occur with an adapted vehicle. There are many ways to modify the vans to work best for the physically challenged person. The more switches used to modify the doors and lifts, the more chances of mechanical and electrical problems there are. The large van I drive today constantly had dead batteries when it was new. It was so frustrating to have this beautiful new van with dead batteries. For some reason the interlock system for the wheelchair lift drained the batteries when the van was not in use. So, for more than a year, it was back and forth between home and the vendor to solve this problem. We finally decided to disconnect the interlock system and install an on/off toggle switch to be used only when we needed to use the lift. Whoever is using the van and lift must 'remember' to turn the switch off when finished or we'll have dead batteries the next morning.
The summer when I drove Kyle on the Rocky Mountain choir tour, we had many problems with the lift (the on/off switch hadn't been installed yet). For almost the entire tour, I had to jack the lift up and down with Kyle's 300-pound wheelchair on it. This wasn't just once a day but every time we stopped for meals, rehearsals, at tourist sights, and what not. Sometimes some of the high school guys would give a hand but most of the time I was the person jacking, working up a sweat and getting some blood into my brain. These lifts can be manually lowered and jacked like when you have a flat tire. Anyway you'd think I'd get thin from all this climbing, jacking, and bending but sadly it just doesn't happen.
I still like to drive and one of these days, I'll just pack up and take another cross-country trip where I can stop and enjoy the scenery. But now I'm yawning and I need to hit the couch because today I got up early again to drive Kyle to work. Thankfully it is only a summer job. I sure wish he could drive something other than his wheelchair. Would anyone want to donate a hands-free modified van? Or maybe even two?