Finding purposeful toys for children with severe physical limitations can be quite a challenge – at least it was when my sons were young. Following are pictures of some toys I adapted for my sons.  Thanks to my dad, I knew how to use a hammer, power saws, and other tools but I knew absolutely nothing about switches, wires, soldering, etc. However, I made some feeble attempts to create cause and affect toys for Derek and Ben. Through much trial and error, I was able to develop several different types of switches for them, as well as several for their brothers as the family expanded.
I used two books as my guides:
"From Toys To Computers: Access For The Physically Disabled Child" by Christine Wright and Mari Nomura
"Homemade Battery Powered Toys and Educational Devices For Severely Handicapped Children" by Linda J. Burkhart
Today there is a wide selection of adapted toys on the market. I'm sure many parents, educators, and therapists are glad they are available but I so enjoyed making my own and watching my sons find pleasure in entertaining themselves.
Ben plays with a spatula switch. The goal is to push the spatula and activate the toy – a bear that plays a drum. He would torment Derek by stopping the bear when Derek wanted to watch it play. This helped develop social interaction between the two as well as some fine motor skills to push the spatula.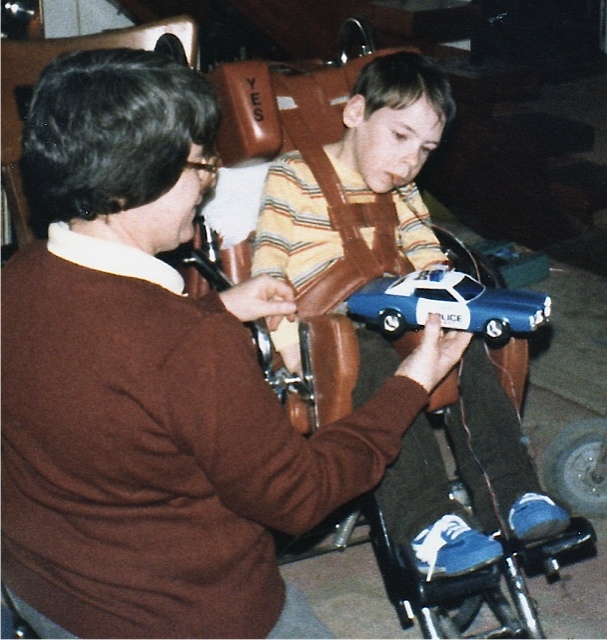 This is Alan using a pincher switch with his mouth. When he closed his mouth on the switch, the toy was activated. The toy used here was a police car with flashing lights and a siren.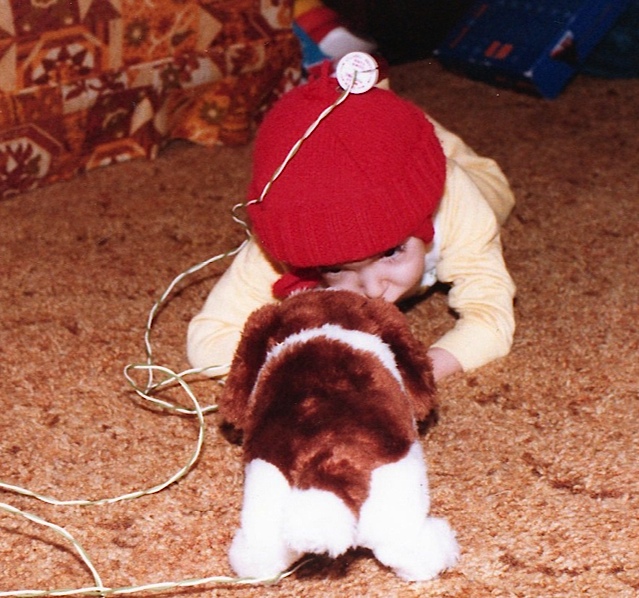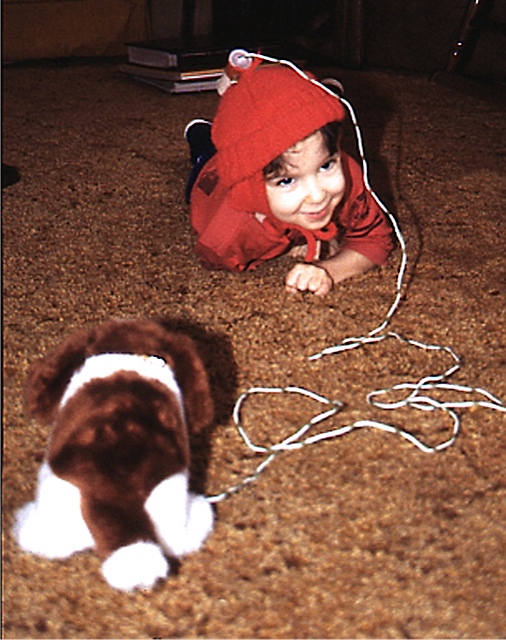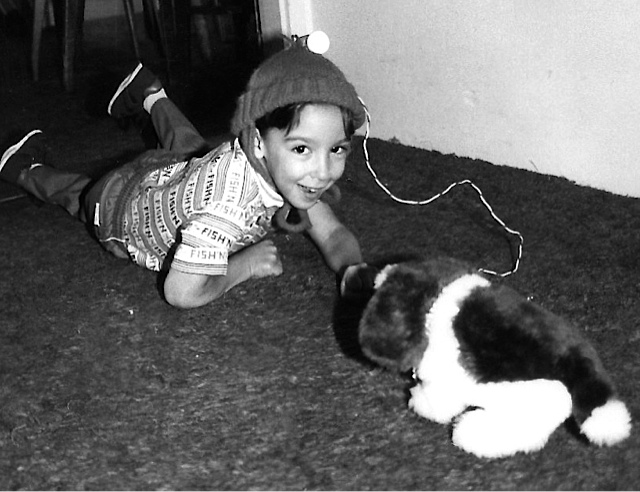 This is Ben using a mercury switch, which is inside a pill bottle secured to a hat my mom knit. The hat was perfect for keeping the switch in place. As you can see from the pictures, as Ben practiced, he became more proficient at lifting his head while on his stomach. When his head is raised, the puppy would walk forward. When he lowered his head, the puppy would stop.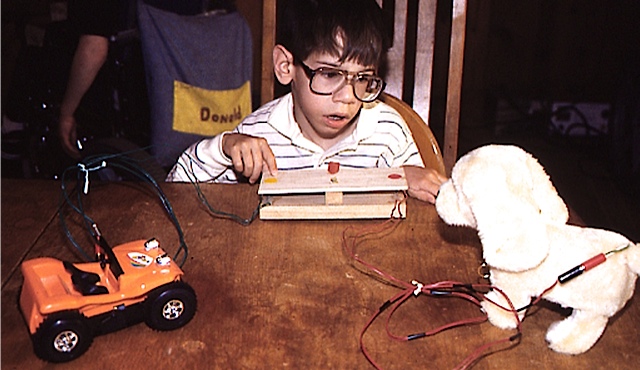 Here is Sean using a rocker switch connected to two different toys. Sean had a bit more use of his hands than many of my other sons. When he put pressure on the dots at the end of the top board, it would tilt and activate the switch hooked up to the toy. This motivated Sean to reach farther to his left as he had to stretch his arm and also to focus visually on the dots and toys.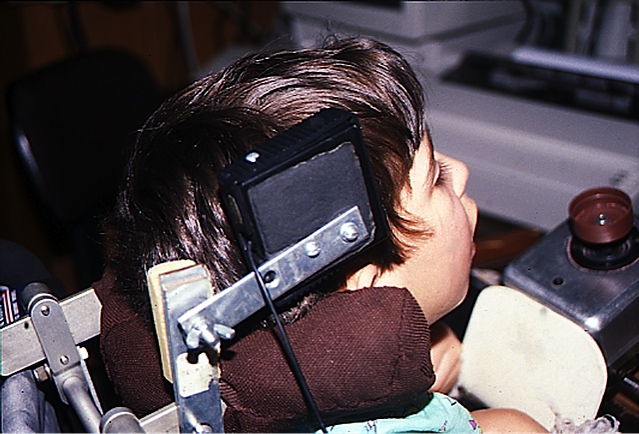 Here is Ben with a pedal switch mounted near the right side of his head. He is able to turn his head to the right versus to the left. Therefore, that is where I placed the switch. I made it so it could be flipped back out of the way when he didn't need to use it or to adjust the angle if necessary. (Note the wing nut on the mount for easy access to flip switch away.)  As you can see, Ben was able to use this switch for many activities: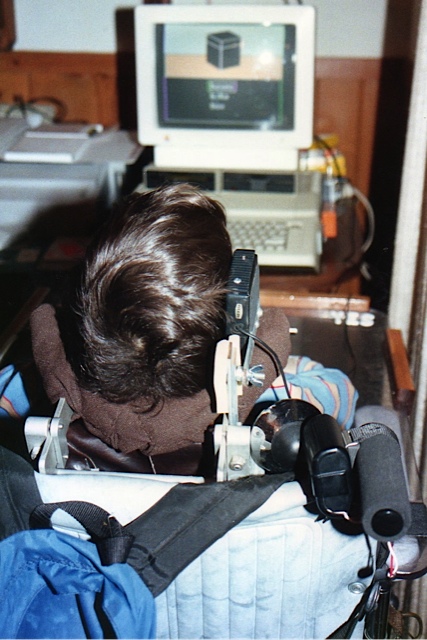 playing computer games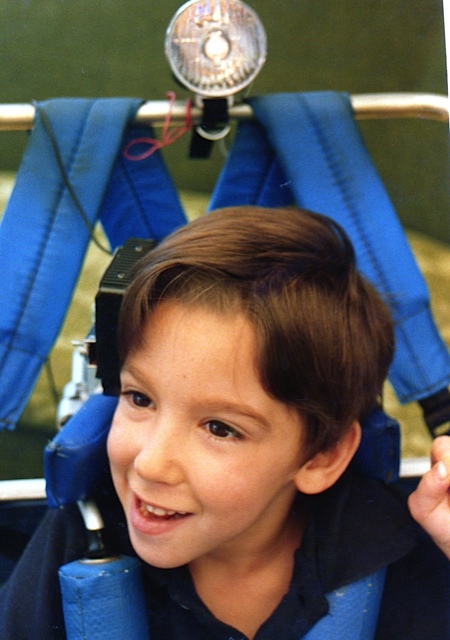 turning on a bike light. This was his "hand raising" light when he knew the answers to questions in the mainstream classroom or when he wanted to ask a question himself.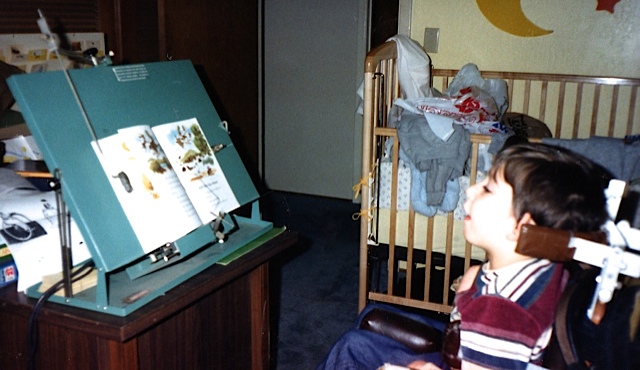 to turn pages with a page-turner. Sadly the switch worked okay but he would get frustrated because the turner tended to turn more than one page at a time.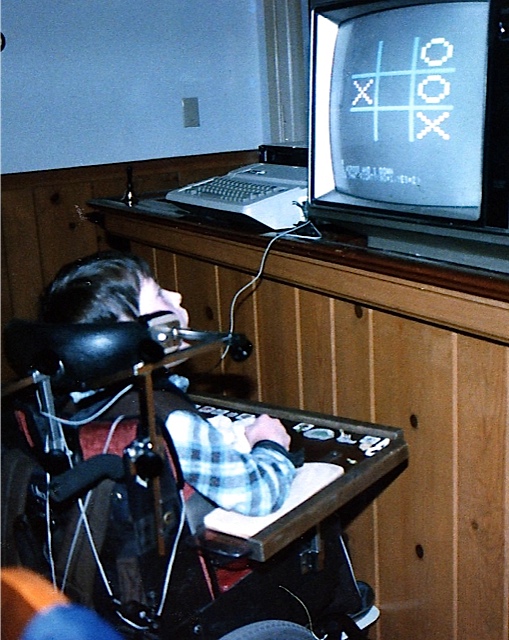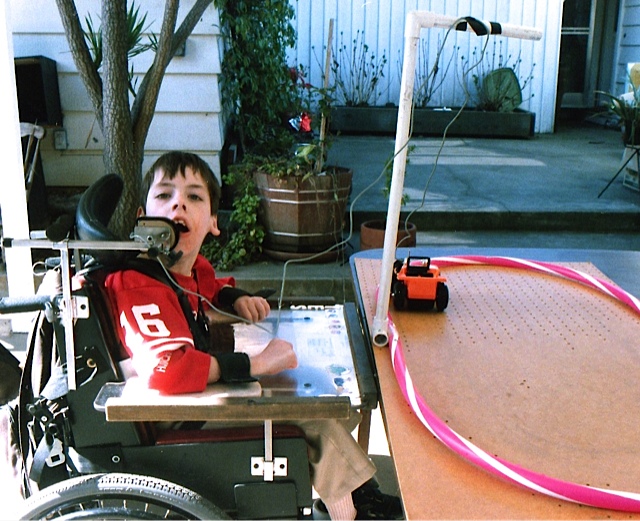 Here is Alan using a different pedal switch to play the computer and make the car go around a simple racetrack. I did not make this switch but want to show that manufactured switches do the same things as the ones I constructed.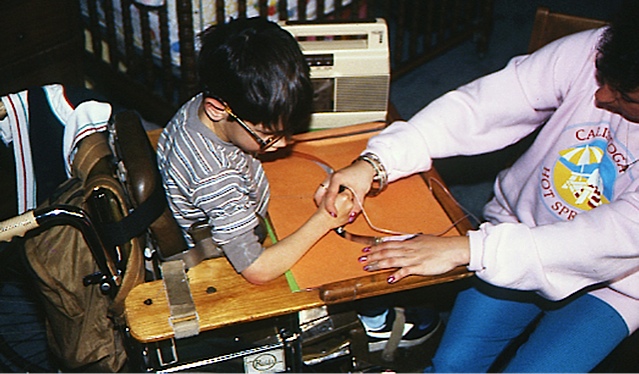 Here is Sean practicing fine motor skills of tracing a path cut on construction paper. He had to guide a bolt through the path on a cookie sheet. When he stayed in the path, the music would play. The cookie sheet is hooked up to a tape player. For Sean, grasping and holding an object was hard. This also encouraged hand-eye coordination.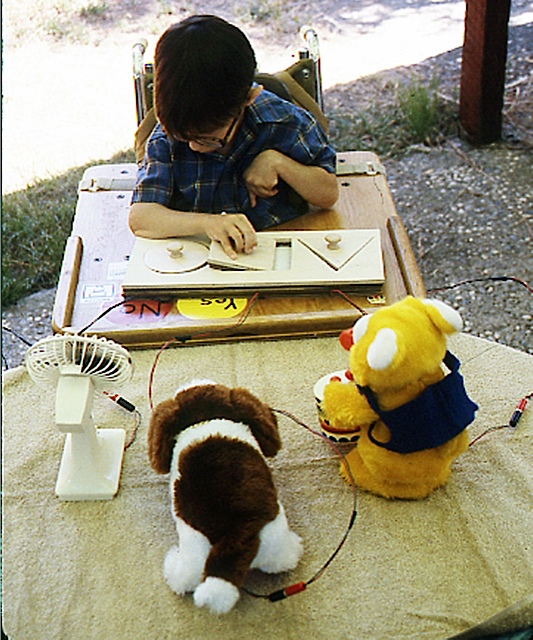 Here is Sean playing with a puzzle. This puzzle is three different shapes connected to three different toys. When Sean placed the shapes in their corresponding openings, the toys would be activated. Once again, the goal is to develop hand-eye coordination.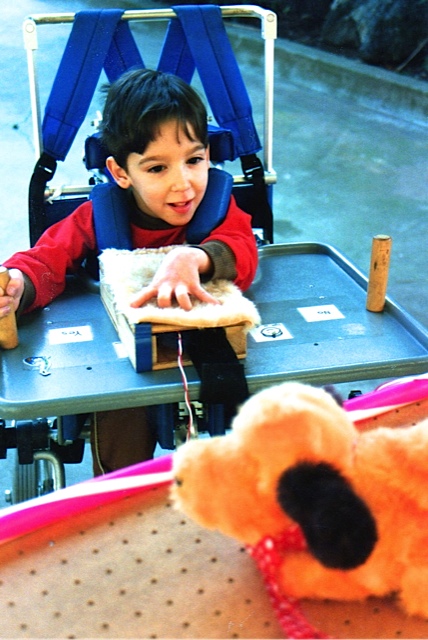 Here's Ben using a different type of lever switch constructed of a wood box. I learned that cardboard wasn't sturdy enough for my extremely stiff and spastic guys. I covered this box with fake fur to prevent slivers (all wood boxes were sanded and finished too) and also allow for different texture. I also learned to device ways to secure the switches to their wheelchair trays so they wouldn't get knocked on the floor.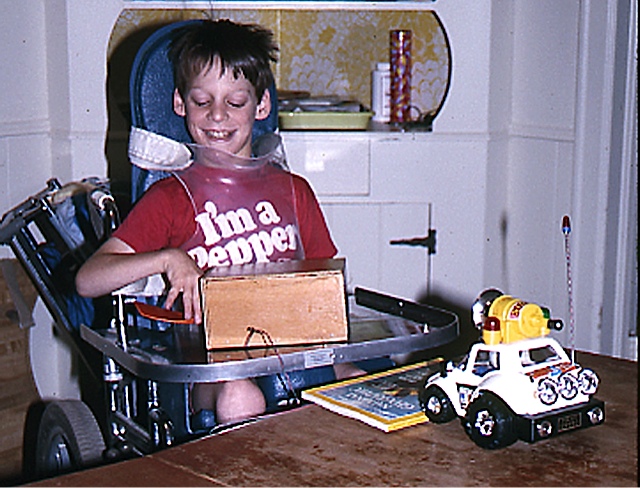 Donald using the spatula switches. He has very limited use of his right hand.  I propped the car up so it wouldn't move around as he is an auditory learner.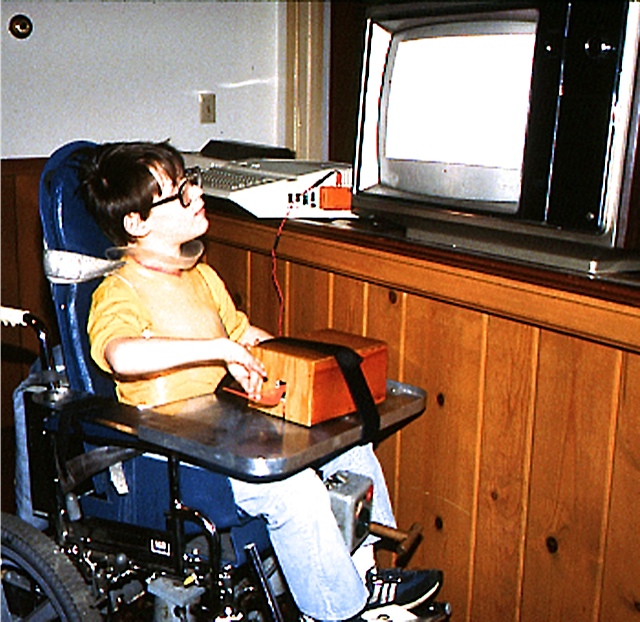 playing a musical computer game.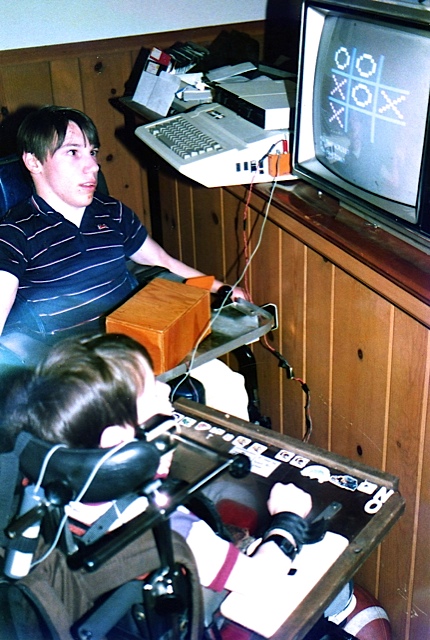 Here are David (using the spatula switch) and Alan (using a head switch) to play the interactive computer game of tic-tac-toe.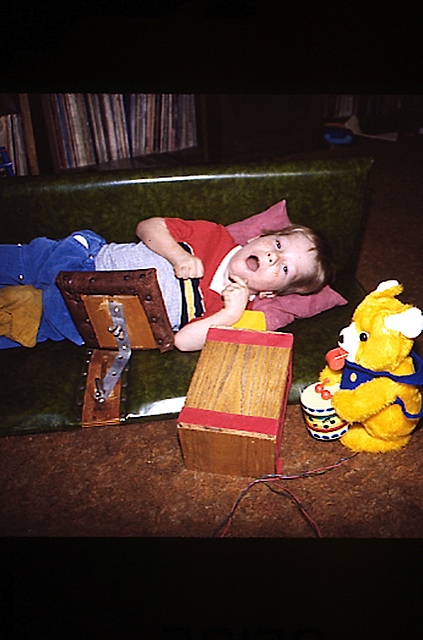 I found several toys that would allow Derek to enjoy that were not simply related to sound, but provided visual movement because he was deaf. However, it seems like most of the pictures here are of this drumming bear but we had a selection of 12 or so toys to keep him happy and not be bored. When Derek was lying on his side, he had a little more control over his left arm (above) versus his right arm when seated in his wheelchair (below).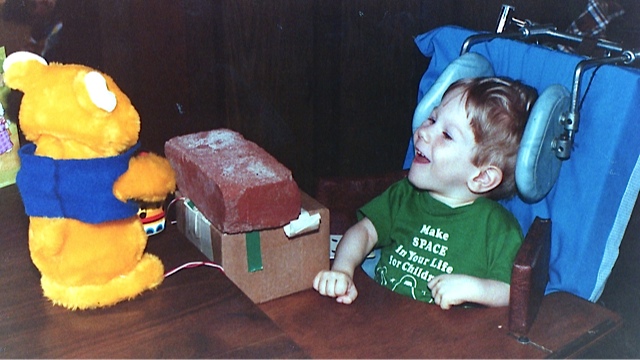 Here is Derek using a switch with his left foot to play a computer game.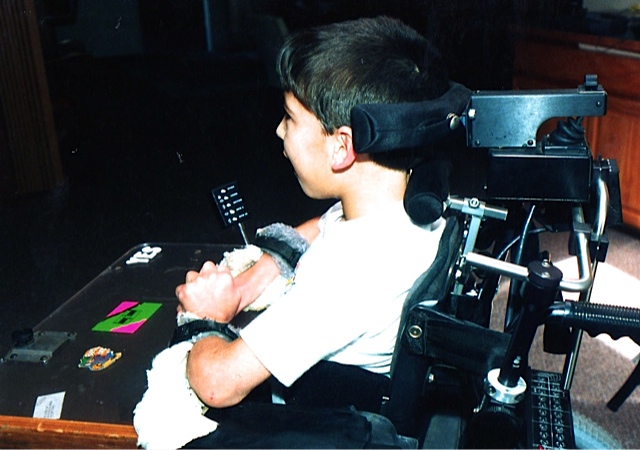 Here is Ben using a complex joystick system to drive a power wheelchair with his head. The goal was for him to become independent with mobility but once again, things just didn't go his way because of the degree of spasticity he has. He was able to drive the chair in large, open areas but to maneuver through tight spaces ~ just wasn't a skill he could accomplish. There are several types of head controls for power chairs today but Ben still hasn't found one that he can master.
I hope you have enjoyed viewing these pictures. Please remember I am not a professional photographer and some are not of the best quality. You can find many sites on the web if you look for "Switches and Adapted Toys for Special Needs Children". If you have the skills for wiring, constructing, and being creative, how about developing and donating something to a child with special needs or your local school? I'm sure they would love to have a toy or game meant just for them.