O. Glenn Aiken, my beloved father, is in my heart today. Emotions began to rise when we sang the hymn "What Wondrous Love Is This" in church this morning. This was one of the songs my sister selected to be performed at my father's memorial service. Then, to stir my memories even more, the second hymn was "Jesus Walked This Lonesome Valley". This song I learned when I was in junior high school and O. Glenn Aiken was my teacher and choral director.
I could share some of my most inner feelings with Dad. We worked closely together on many projects at home and in the community. I give credit to Dad for being such a strong role model to me and I miss him greatly.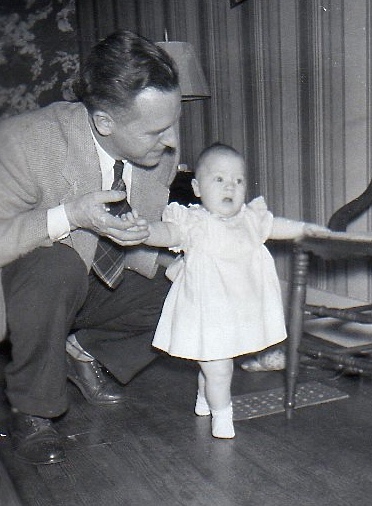 As a child I could understand his speech better than most people, and through our conversations my language development took hold. Dad was one of the easiest persons for me to understand, once he realized I needed to speechread. I'm sure he could identify with my speech differences since at times he had a tendency to stutter. However, he didn't stutter when he was singing. In his younger years, he sang tenor but later in life he tended to sing baritone. Whether it was tenor or baritone, he sang with confidence. His voice was full and rich. I can only imagine how crushed he (and my mom) must have been when they learned I had a severe hearing loss. For them, music was their world and it also became mine – though limited to low frequencies – until the progressive loss left me profoundly deaf in my early twenties.
Dad was short and sturdy. He was a perfectionist and a workaholic. He was stubborn and never used his first name, Oscar. He detested the name because he didn't want to have the same name as a mule. For this reason, he was known as O. Glenn Aiken. He was active in our small, rural community: Lions Club, supervisors, Boy Scouts. He loved his family and especially his grandchildren.
Dad encouraged his students at Otto-Eldred Jr. Sr. High School to reach their highest level of potential. As long as a person had the desire to be part of Dad's choruses, he gave them an opportunity to sing, regardless of their musical skills.
Dad's students participated in district, regional, and state choruses in Pennsylvania. He also had summer music programs where community members performed such musicals as "The Sound of Music", "West Side Story", and others. I spent hours with Dad as we set up for the performances, carried heavy risers and secured background props. We loved working side-by-side. Some summers he took high school students from various schools in western Pennsylvania and New York State on musical tours to South America and the Caribbean Islands, back in the 1960's before the common practice of such was done in many schools. This was not a small feat for a small school and where many students were financially deprived.
In addition to school music, Dad and Mom established an exceptional music program in our small community church, the United Methodist Church of Duke Center. Upon retirement, my parents moved to Arizona and continued to be active by creating choruses in the retirement communities where they resided.
About a month before Dad passed away, I showed up unannounced for a visit at the care facility where he lived. By this time he was blind and totally depended on caregivers to meet all his needs. We talked, sat outside in the sun, and after lunch the residents were involved in music. That day, everyone was startled as Dad unexpectedly sang, "Swing Low, Sweet Chariot" in his clear tenor voice. It had been a long time since anyone had heard him sing. Many of the other residents joined in as Dad continued to sing and directed with his left arm. This was my last visit with Dad and memories I will forever hold dear.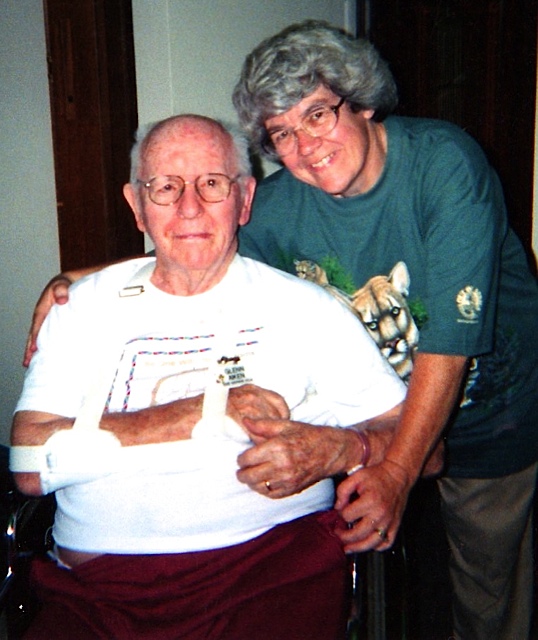 But today, he sang again – through the people at my church. All the verses for "What Wondrous Love Is This" are moving but the last stanza left me numb and rather choked up.
And when from death I'm free,
I'll sing and joyful be;
And through eternity,
I'll sing on, I'll sing on;
And through eternity,
I'll sing on…
Yes, I know O. Glenn Aiken sings on in the lives of his former students, church choir members, members of his retirement community choruses, and churches around the world where some of his favorite hymns are sung. He sings on in the lives of his children and grandchildren.  And today, he definitely sang on as I visualized a peaceful expression on his face and felt his vibrant voice in my heart while the congregation sang "What Wondrous Love Is This" ~ a hymn my father loved.