written by Beth Dewing
I met Marian and family at church sometime in 1994. I was looking for a church that provided ASL interpreters.  Marian had one or two boys in wheelchairs, and Kolya in tow on Sundays.  I brought my 2 younger daughters, Leah and Rachel.
After knowing the family for a few years, I started to do a few activities with her son Chris, but switched to Kolya who captured my interest. Kolya is the reason I went back to school and got my degree in Special Education. I now work in a Moderate to Severe class under a very talented teacher in Los Altos.
Kolya and I have been going out on Wednesdays for a long time now.  We typically spend 3 to 4 hours on our date. Some of our activities include: movies, shopping for DVDs, driving to construction sites and walking about, visiting different local downtown areas, and places like that.  Also specific jaunts to see the SJ Center for Performing Arts (beautiful building) and other buildings, sometimes bridges that he selects from his iPad. Lately he has been picking restaurants that he wants to check out with his iPad!
Honestly, there is never a dull moment with Kolya.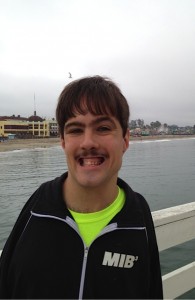 This is my friend Kolya. He is standing on the Santa Cruz Wharf. Behind him is the Boardwalk, but we gotta wait a couple of hours before they open.  My daughter Rachel is with us.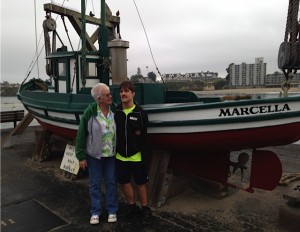 Kolya and I are standing in front of a cute little fishing boat named the Marcella, which is seeing held up by some kind of block and tackle system by its' bow and stern.  Kolya likes architectural details in objects, especially buildings and bridges.  Boats are only somewhat interesting to him.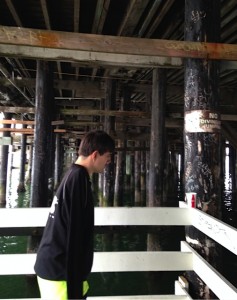 We take the stairs down to look under the wharf and find not only lovely architectural timbers that provide the support for the deck about, and… graffiti (a forbidden delight). There are seals near by, barking.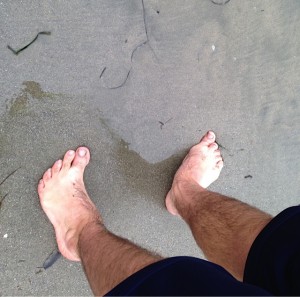 After walking the Wharf, we head out to the beach. He asks for his swimsuit but I did not bring suits for this trip.  He asks many times for his suit.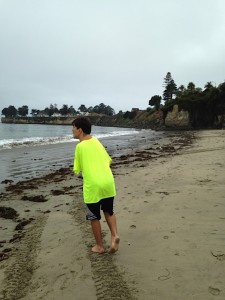 Kolya explores the textures of the seaweed washed up on the beach as he walks by. He puts his right foot squarely in the middle of these messy mounds of green strands.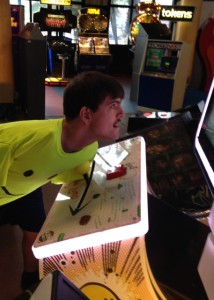 The arcade opens up and we go in to play a few games.  Kolya does well handling the loud noise of these machines, but I know he will not last long.  Rachel finds a game that will spew out tickets for the prizes he can get.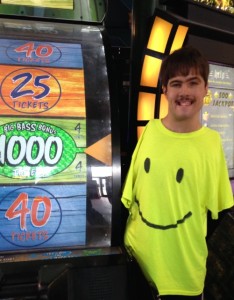 Tada! we score 1000 tickets! Way to go!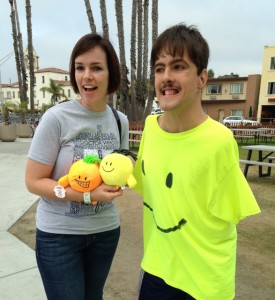 Rachel is holding the two creatures Kolya picked out for his prizes.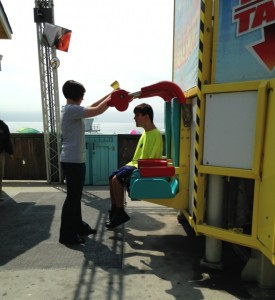 The Boardwalk opens and are we ready! The first ride Kolya picks out is the the up and down Freefall.  Rachel buckles him in.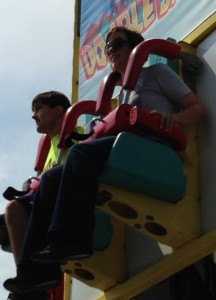 Going up, all smiles 🙂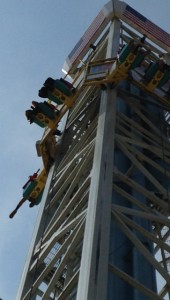 Freefall coming down!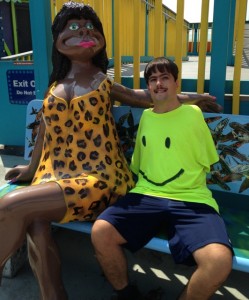 Going higher on the Freefall! The up/down motion is repeated many times on this ride. Kolya goes on the ride three times with Rachel.  I'm so glad she is taking him and not me!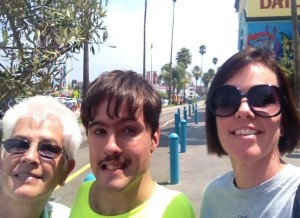 A group photo of Beth, Kolya, and Rachel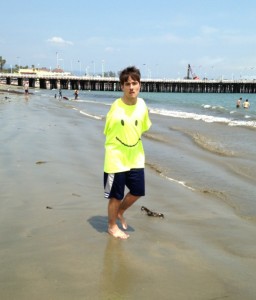 After lunch another walk on the beach. He does not want to go home. A good trip 🙂