Mildred McConnell Tait Aiken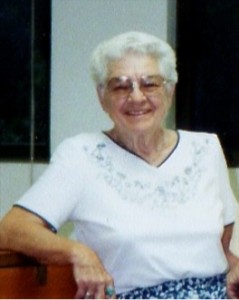 April 22, 1916 – September 30, 2000
Fourteen years ago, I held my mother's calm, weak hands. I removed her worn wedding rings to pass on to her oldest granddaughter, and I sang, Abide with Me.
Today I write in honor and memory of Mildred Aiken, who was born in Mercer County, Pennsylvania. She lived on the family farm and was the youngest of three daughters born to Marian (McConnell) and Francis Tait. After graduating from high school, Mom went to Grove City College and majored in music and English. It was there that she met her future husband, my father. While Dad served in WWII, Mom taught music in the public schools in Grove City. They were married in the chapel at Grove City College after my father returned from the war.
Mom was a stay-at-home mom when I was young. She taught piano lessons from home and was the organist at our home church. I think I was in sixth grade when she was called to substitute teach at the local high school because one of the English teachers needed to take an extended medical leave. Mom stayed on teaching English for several years and later changed to elementary music education in the neighboring community of Portville, NY.
During my younger years I was not as close to Mom as I was with Dad. However, I loved her dearly and I know she loved me. I think we clashed about some things but I can't pinpoint what caused the friction. I'm wondering if she may have felt guilty about my hearing loss since it may have been genetically passed to me from her side of the family. It was something that was not discussed but perhaps that might have caused some unconscious tension between us. Regardless of these memories, which may or may not actually be true, Mom taught me so much of what I know today.
Mom and my grandmother joined together to teach me to sew at a young age. I also learned to knit but it's not something I do today. Much of mom's world was centered around music and she was my beginning piano teacher. She also encouraged me to sing and play rhythm instruments when young. One of the most enjoyable activities we did together was to teach adult swimming lessons at the local community pool.
Like Mom, I don't care to spend time cleaning house. Like her, I can cook but I don't enjoy it any more than she did. Like my mother, my hands are usually busy, but a calm busy. Any friction between my mother and I that I had felt as a child resolved itself years ago and we had a close mother-daughter bond.
Fourteen years ago I received an email from a friend of my parents' asking for me to make arrangements to go to their place in Mesa, Arizona. My mother was quite ill. I immediately made travel arrangements and lined up various people to come and help care for my sons. Two days after my arrival she was diagnosed with pancreatic cancer and the prognosis was not good. I wanted to care for her in her home but it was too much for my father to handle. Mom was placed in a newly opened hospice care facility within walking distance from where she lived.
We shared memories during the hours I stayed with her. I read and read and reread the many poems she had written. Then one day she asked me to bring her hymnal from home. Once I had the hymnal with us, I wanted to know what hymn she wanted me to sing (off key). She was too weak to speak but could still fingerspell and sign. "Just open," she signed. I opened her worn hymnal as instructed. Mysteriously, Abide with Me was before us. She smiled and silently moved her lips as I tried to sing for her.
Almost all the time we were conversing she was holding my hand. One day, I simply began to speak and share my thoughts with her about her hands. She would smile at me, squeeze my hand or make the slightest movement to sign something that let me know she was still with me.
Following is what I shared at her memorial service.
My Mother's Hands
Naturally mom's hands were those of a mother. She changed diapers, bathed her children, did loads of laundry, scrubbed dirty faces and sticky floors, and all the other typical jobs that a mother does with her hands. Her hands baked cookies and apple pies, made popcorn balls and chocolate Christmas tree cakes with Grandma's "Never Fail" cake recipe. Mom had gentle hands that would clean our scrapes and hurts, brush tangles out of our hair, or give a pat of encouragement when things were not going right.
I remember Mom's hands were normally busy but not in a nervous way. She would quietly flip her pencil in a routine manner as she worked her crossword puzzles or while playing a competitive game of scrabble. You would think her coffee cup needed a massage as she gently moved her fingertips around the rim.
Mom used her hands in many ways to express herself creatively. She had nimble, yet strong and confident fingers that created beauty from her stringed instruments, the piano and the organ. Her hands conducted and composed music and wrote poetry and prose. With her hands she knitted sweaters, baby booties with matching blankets, afghans, slippers, socks. She created special toys and mittens without thumbs for my disabled sons.
Mom's hands would be lifted skyward with grace while dancing in the pool with her synchronized swimming team. Even beyond the age of 60, Mom made an effort to learn and use sign language to communicate with my deaf sons and me. Her left hand proudly, and rightfully so, displayed her rings worn thin as a symbol of more than 54 years of marriage.
I vividly remember Mom's peaceful smile as she would throw a kiss and elegantly wave good-bye to me whether I was going to a friend's house to play, leaving for school each morning, leaving home for college, or running a quick errand to the store. In my mind, the most profound wave of good-bye was to my father just hours before her hands became forever still.
How to you remember your mother? Is there a feature or trait that sticks in your mind or that you realize you have inherited?