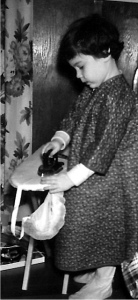 Several years ago many changes happened in my life. At the suggestion of a friend, I returned to a skill I had learned as a child from my grandmother that helped me to satisfy some of my needs. That skill was sewing.
My grandmother, Marian McConnell Tait, was a seamstress. She taught me at the young age of five years to sew using real adult scissors, needles, and my mother's sewing machine. The trust she had in me to use these tools must have been great. I am so thankful that Grandma allowed me to have the experience of sewing so early in my life.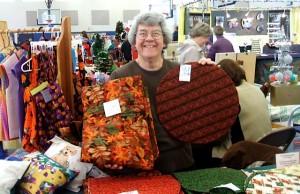 At the suggestion of this friend I began to sew again. She encouraged me to enter and sell some of my finished products in the Harvest Craft Faire at the Los Altos United Methodist Church. Sewing helped me fill a void after several losses in my life and bring in some extra income to help pay the bills. Today, I have expanded my sewing from simple aprons and hot pads to many items you will find here on my site.
Many of the things I make end up to be "one-of-a-kind." I use what material I have collected from various places. Some items are created to use up small pieces of fabric and incorporated with larger pieces. Many are to fill specific orders. Pictured below is a sampling of what I make. For larger pictures, and to see more information, check out this Handmade By Marian page. To contact me for more information about what I can make for you, or to make an order, please use our contact page.