I didn't know. I just didn't know I couldn't hear things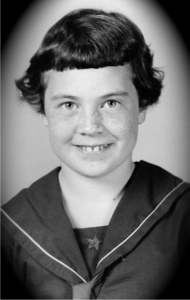 like others did. I had no idea I was missing everyday sounds. How was I expected to know? I knew no differently because I probably never had normal hearing. I most likely was born with a severe loss that went undetected for many reasons.
One reason things went unsuspected was because I had normal hearing in the two lower frequencies and that included the vowel sounds of speech. Therefore I could hear voices when people were speaking. I must have been a natural at speechreading because that is all I ever remember doing. I had no way to explain that I had to see people to know what they were saying. I don't remember anyone ever telling me to look at them when they spoke. I just did it in a natural way.
To me, my childhood was just like my siblings and neighborhood friends. We played in the snow and played games of tag. We rode our bikes and had camp-outs in the back yard. A very normal childhood as I remember.
Until…
One day I was taking a piano lesson from my mother. As she demonstrated the correct rhythm on the upper register of the piano I asked, "What do those keys up there sound like?" For years I had watched her play those keys, noticing where she positioned her hands, but never asked what they sounded like. I remember a rather confused and startled look on Mom's face as she said, "Stop horsing around and pay attention to your lesson." I bet it was that very moment that she finally realized what the problem was – I couldn't hear all sounds.
Soon after that lesson I recall going for repeated hearing tests by the school nurse. I remember the nurse taking me out of my first grade classroom and into the small, rather dark, second grade cloakroom. There was a machine set on a table. The nurse would put headphones on me and instruct me to raise my hand when I heard a sound. As she explained the procedure I obviously watched how she pushed a lever and moved her hand to make the machine work. So, as she moved her hand I would raise my hand but sometimes, which became many times, I would raise my hand when she faked pushing buttons.
These sessions became more frequent and when I saw this lady come to my first grade classroom door and lead me to the cloakroom, I wanted to dash down the stairs and out the front door of the school. But, I didn't and followed her obediently.
I remember how I hated it when she made me turn around and turn my back toward her and the machine. I didn't know why that upset me so much then but I do now. Turning me around prevented me from cheating on the test and also prevented me from being able to speechread to understand what she was saying as she spoke one syllable words that I was to repeat. Even today as I sit and write, I become nauseated and overcome with a feeling of failure and being inferior in some way. I'm not saying that anyone in my life ever made me feel this way. It was simply an internal feeling I had and still face today as I enter a soundproof booth. Entering a soundproof booth is frightening to me.
As my father mentioned in his writing, we began trips to see ear, nose, and throat doctors. I was required to use nasal drops several times daily for years because the doctor said my adenoids were enlarged and may be the cause of my hearing loss. I had no history of ear infections that I recall, just these swollen adenoids that probably weren't swollen at all.
The yearly trips to Pennsylvania State University for hearing tests began. This was a long drive from our home and not something I enjoyed. The doctors and audiologists would spend time explaining charts to my parents but I never understood what all those lines meant. I honestly didn't comprehend the severity of my hearing loss nor the impact it had on my life. After all, I was just a kid at that time.
A couple of things stand out in my memory during my years in elementary school. That cloakroom for the second grade presented a new experience for me the next year. It was also used for small group remedial work. I ended up in the PINK reading group and was sent to that dreaded cloakroom. I couldn't understand why I had to go there with some other kids. PINK is not a color I appreciate today.
Another big problem was spelling tests where Mrs. Sandberg would only speak one word to spell. Although her voice was low and rough, as I remember it, I struggled. Remember I am hearing basically only vowel sounds and not consonants. There was no way I could tell the difference, even with speechreading the teacher, between words such as man – pan, test – less, white – whine, and so forth. I definitely didn't do well with spelling! Numbers were another drawback in math when problems were dictated and not written on the blackboard (yes, the boards were black at that time many years ago). Directions given orally like, multiply 15 x 30. Or was it 50 x 13? Frustrating to say the least.
Mrs. Dobner, my fifth grade teacher and neighbor, was a hard one for me to like sometimes. I would be so upset because she didn't allow me play outside at recess when I refused to wear a hat during the winter. She insisted on my wearing earmuffs or something to cover my ears. By golly, that just wasn't for me because when something like that covered my ears, it muffled what little sound I could hear. However, once again I didn't know how to explain or she didn't understand my reason. She was also a neighbor who I helped. I would go and help her carry her groceries. When I helped with yard work or shoveled her snow she was always making statements, "Don't those birds sound so beautiful?" What the heck was she talking about? No, I had no idea what the birds sounded like and although they looked beautiful to me, they didn't make a sound at all.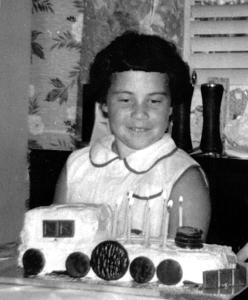 I was made fun of on the playground because I was a chubby kid. I was usually the last one picked to be on a team for red rover because I wasn't all that speedy. This was normal kid stuff that had nothing to do with my hearing loss. I really don't remember others asking why I couldn't understand things. I had friends and I had a family who loved me and tried to support me as best they knew how. I had a home and was required to do chores as my brother and sister did. I don't ever remember feeling slighted in my home because I couldn't hear like my siblings. So, I think you can conclude, I was pretty much a regular kid who just couldn't hear that well.