I continued to struggle in academic courses regardless of sitting in the front of the classroom and reminding the teachers of my communication needs. My grades were average to below average in spite of of how hard I tried. However, I did excel in home economics, especially in the areas of sewing and nutrition.
During my senior year, the home economics teacher encouraged me to enter an experiment in the regional science fair. My project was focused on properties of man-made fibers (fabrics). The fair was held at a high school in Bradford, Pennsylvania where I set up my project display, along with a written report. Several judges questioned me about what I had learned. I recall I had to ask some of the judges to please repeat their questions because I didn't understand what was being said. As I stood confused and frustrated, one judge finally gave up and walked away when I asked him to repeat the question a fourth time (I didn't have any experience at that time to ask people to write for me what I couldn't understand). That left me bewildered but my teacher was watching from a distance and came by with some words of encouragement.
At last the stressful day was almost over. I sat on the bleachers in the large gymnasium with all the other contestants while the winners were being announced. I patiently waited for this to finish so I could leave and go home. Someone from my school got my attention and mouthed the words, "Get down there and accept your award". Unknown to me they were calling my name as the third place winner.
I had no idea what I had won until all the winners has been announced and someone explained to me I had won a week's cruise with the Navy on a research ship. I went on the cruise but honestly I had no interest in the scientific part of the trip.
Sometimes I was invited for sleepovers with classmates in my hometown. Once the lights were turned off I pretended I was asleep. I could still hear voices but I couldn't comprehend what was being said. This was true for times when I went to church camp. Likewise, I'd become emotionally upset when everyone wanted to play the game telephone. I could feel the whispering in my ear but I didn't have a clue what the phrase was that I was supposed to pass on to the person next to me. If I could only have leaned back and speechread the person giving me the secret message, I could have played the game with confidence.
I didn't have a boyfriend. I was encouraged to go to dances and I went to the proms but these were activities that I didn't really enjoy. The dance music would drown out what little speech I could hear and in the darkness of the gym where the dances were held it was impossible to speechread anyone. I felt most comfortable spending time with one friend at a time.
I held part-time jobs during my teen years – babysitting, mowing neighbors' yards, teaching swim lessons, and lifeguarding at the local pool. The younger the babies were the better, because if they didn't speak yet I didn't need to worry about understanding their speech. I saved the money I earned to buy material to sew my own clothes.
During my senior high years I was a part of the community swim team. I was far from the fastest swimmer but I had a lot of endurance. During the swim meets I had to scan the area to find the starter official. If the starter was using a whistle, I watched closely to when the person exhaled to know when the race began. If the starter was using a starter pistol, I watched intently for the trigger finger to move. It was always a challenge and more times than I'd like to remember, the starter was standing behind the swimmers where I couldn't see at all.
I loved swimming, lifeguarding, and teaching swim lessons. I taught all ages from preschoolers to adults. My mom and I would teach the adult lessons after pool hours and we enjoyed this so much. I was extremely visually observant as a lifeguard. I could tell some devilish identical twins apart and they would be upset when I sent one out of the pool for some 'not so safe' behaviors. They'd try to switch places but I knew them apart and they couldn't figure out how I knew. Speechreading was the trick – one had a slightly chipped front tooth. I've kept this a secret until tonight as I write this paragraph.
As mentioned previously, much of my family life was centered around music. I'm sure music was a great influence on my speech development. With music, I learned rhythm, pitch, correct breathing for breath control, correct placement of my tongue for short notes, and relaxation of the muscles in the throat. I know in my gut this all carried over into my speech. I took piano lessons for nine years and did fairly well as long as I was playing the lower register on the piano, that I could hear. I sang in the church and school choirs. I usually sang alto but if Dad, my director, needed more tenor voices, I'd switch to tenor. Today I still sing when alone because my sons tell me that I need to not sing in their presence. Only Kolya doesn't complain.
I began playing the French horn in the sixth grade. I was so short I almost couldn't sit and hold my horn correctly. I never started on trumpet as many students do and my tone was mellow and not sharp. Other than my friend Linda, my French horn was my best friend throughout junior-senior high school.
I practiced my horn for hours a day and I had a three-octave range, meaning from very low to very high notes. Fortunately my band director, Mr. Norm Kelly, was a professional bassoonist and chose wonderful selections of symphonic music for my high school band. Naturally, this meant the French horn had great opportunities to play solos. Linda, my best friend, played bassoon and we'd play together. Sometimes I'd play my horn while riding my bike to her house. Insane I know, but that's the sort of thing I did at times.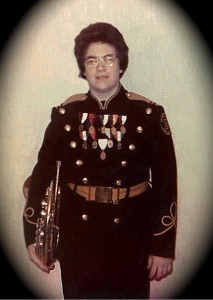 Music allowed me to travel and meet all kinds of people. I participated in county, regional, and district chorus and band events. I was even selected for all-state band my senior year. This was quite an honor to be selected from one of the smallest schools in the state of Pennsylvania.
I traveled to four countries in South America and to the Caribbean Islands with my horn and sang with the chorus. I played a solo, Rondo from Horn Quintet, K.407 by Wolfgang Amadeus Mozart, for my high school graduation.
I played solos in our church. My parents never had to ask me to practice, it was something I loved to do.
How could I participate in music with a severe hearing loss? As a child, I had normal hearing in the two lower frequencies. Then, my hearing dropped to a severe loss in the middle frequencies, and profound in the higher frequencies. I could be sitting next to a flute and not hear a thing. Sometimes I could hear parts of what the trumpets and clarinets were playing and sometimes not. I matched my pitch to the lower brass instruments; the baritones, trombones, and basses. Gradually, I noticed I was hearing less and less while participating in music events. My hearing was changing and not for the better. As my father wrote, the audiologist explained that my hearing loss was progressive and would become worse. I didn't get it. I didn't understand and that was true even through high school.
Regardless of all the barriers I faced with having a severe hearing loss throughout my childhood and teen years, I was active. I did most everything other teenagers did – attended basketball games and football games with the marching band, traveled, worked part-time jobs, had friends, passed my driver's test, graduated from high school, and left home to attend college.