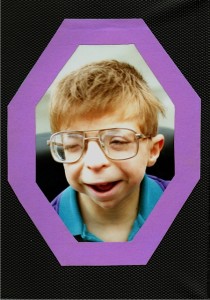 Today I remember Ilan as being a special and unique child. It's been eleven years since Ilan passed away unexpectedly, but he's still in my heart and life.
Ilan began his life with numerous strikes against him. It took more than three years to diagnose him with an extremely rare syndrome, Rubinstein-Taybi Syndrome. In spite of all his medical difficulties, he also entered the world with the ability to connect with people around him. Becoming Ilan's mom was my first experience with open adoption and I must admit it took me some time to adjust to having the birth family of a child living in my home being so involved. However, things worked out and I can now say I appreciate the open communication we developed amongst us and I thank Ilan's grandparents who also gave support in many ways.
Ilan still visits me, especially when I see the hummingbird wind chime moving in the

breeze. Ilan loved to gently swat at the birds and listen to the chimes. He'd put his ear as close as possible so he could hear them.
A while back I caught myself thinking Ilan was helping me. I was filling a rice pouch for a sewing project. I grabbed a funnel to pour the rice into the pouch and realized it was Ilan's funnel with his teeth marks on the end. Ilan loved banging kitchen utensils to make various sounds.
Other things remind me of Ilan. For example, his artificial eyes are still in my bathroom drawer. I have yet to decide what to do with them. Seeing them reminds me of the time I had to call his school many years ago. Back then, I had to call through a relay operator in order to speak with others who did not have a TTY (ancient technology now that has been replaced with video phones and video relay services).
Anyway, one day Ilan came home from school and he was missing his artificial eye. I called the school through the relay operator and the secretary answered the phone. "Mary, this is Marian calling and Ilan came home without his eye today. Can you please ask the janitor to check the floor for his eye before he vacuums?" I asked. "Sure, I'll go and ask him right now", she responded. So, I was put on hold with the relay operator. Hold, hold, hold… I finally typed to the operator, "Oh by the way, that is an artificial eye we are looking for." The operator typed back, "Thank God you told me that! I was gagging and gasping trying to tell this lady about an eye being on the floor!"
The janitor could not find it so I hung up. A short time later I was taking Ilan to the bathroom and felt something fall. It was his eye that somehow had gotten into his pants pocket. I once again called the school and of course it was a different relay operator. ""Mary, I found Ilan's eye in his pants pocket. Everything is fine," I said and hung up without further explanation. I wonder if she was gagging and gasping too?
Recently I was driving to the store and something caught me by surprise. This may sound silly but there was a truck at the stoplight missing a headlight and it made me think of Ilan and his missing eye. It was even the same headlight as Ilan's missing eye. The front grill on the truck reminded me of Ilan's smile. And sometimes I see his trike parked outside the Children's Center at the church. I will stop and touch it as I walk by. What a sturdy trike for a sturdy little boy, a gift to Ilan from his maternal grandparents.
I miss his smile and hugs. I miss our silly bedtime routine and his "high fives" when he arrived home each day from school. Ilan was one of the more innocent people I have ever known. He made people feel important. I'll never forget how he trusted me as he'd dive into my arms from the back seat in the van, vocalizing with pleasure after we'd return home from a "caramel ice cream sundae" outing to McDonald's. I feel most honored to have been able to be his mom and to be entrusted with his care from the day he left the hospital as an infant until I gave him his last earthly kiss.
The following poems were written by Ilan's birth brother Eric Siegel on the eve of Ilan's death.

Ilan

His laugh
That's what I remember
It was more of a giggle
Or a chuckle actually
But that is not what matters
What matters is that we will hear it no longer

He knew he was loved, that's what matters
Of that there was no question
Always surrounded by a smiling face
Always someone there to help him get by
And although I was not there all the time
I know that those who were, were happy to have him there.

Although he is not here,
His memory is.
His laughter and joy will stay with us
And all along we will remember
The love he had for us all.

Circle of Life

The twinkle is not in her eye
Instead it sheds a tear
She remembers the time she spent
Watching him, hoping, praying, crying
On his trike he would ride
In circles
Circles, Circles, Circles
With his toy piano perched on the bars
The sound would come out,
But he could not hear it

The twinkle is not to be seen
Instead she sits there crying
She can't forget the time she took
To watch him grow older
As he rode in circles
She saw how
The circle of life
Was so cruel
And she sits there,
Not knowing what to do.
But that time will soon pass,
For it is the circle of Life not death.