Dear Readers,
I'd like to take a moment to explain about my website and how all of this began. Someone suggested I develop a personal website to allow others an inside view of my family and my daily life. I was hesitant to put us out there for others to see. I consulted with my sons and asked their permission to use their photos and stories on the website. As you can see, they gave me the go ahead.
Many of you know I am not an expert in technology and depend on others to help me wade through my limited understanding computer skills. At home, I depend on my sons and some friends to lower my stress and frustration, and help me accomplish tasks when I need a hand.
However, I do want to take a moment to explain and thank my webmaster, Cathi Bouton,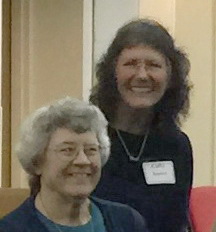 for all her knowledge to put this website together. We have been friends for many years. Cathi is an ASL interpreter and teacher. Cathi has done layout for a literary magazine, presented workshops, and is a juggler. She is also a wife, mother, grandmother and the list could go on.
Anyway, I want you, my readers, to know that Cathi has done the entire layout for my website. She has provided consultation and editing, and maintains my website. While we were developing this website, Cathi was also formatting my book, DEREK. What a loyal and dedicated friend!
We are far from finished with our project. I have many more stories to add and we will do just that as time permits – between my busy schedule at home and Cathi's equally demanding life. Recently Cathi's family has been dealing with some medical issues that she must focus on. There may be longer periods of time between when new stories are posted. Perhaps stories will be posted in groups of two or three to be more time efficient. Once again, I would like to invite you to subscribe so you will be notified when new material is posted.
Please don't give up on us. I'd like to thank you in advance for your patience and understanding. I am in awe when I look at the website and witness how much has been accomplished. This is beyond anything I could ever have dreamed of. It would never have happened without Cathi's skills and encouragement.