Ben, Kyle, Kolya, and I were close to the California border. I'd been traveling at a good clip and making good time when I decided to pull over at a rest stop to use the restroom. I was stiff and slowly slid out of the driver's seat and to stretch a bit. Suddenly a lady came running up to me, obviously shouting. "What did you say? I can't hear you. I'm deaf. Do you need help?" I asked.
"Your van is on fire! Your van's on FIRE!"
"What, you say my van's on fire? No way!" She grabbed my arm and pulled me around to the passenger's side where she pointed under the van to something that was on fire. I thought it was an old spark plug that must have been left in the engine from being serviced before our trip.
I opened the passenger's door where Kolya sat, grabbed a bottle of water and put out the fire. Then I went around, climbed back in and moved the van to a different parking spot so it wouldn't be over that 'burnt spark plug.' By this time this lady was jumping up and down, yelling at me, "Your van is still on fire! Please get those people out of the van," she shouted. She was gesturing to my sons and making a sweeping movement of getting them out.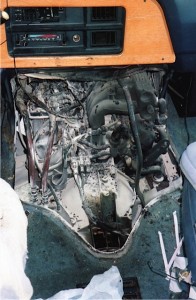 I was dumbfounded but, sure enough, there was smoke coming from the motor cover and I smelled something burning. It was easy to get Kolya out because he was sitting on the front seat. Of course he didn't have shoes on and the concrete was extremely hot. I asked the lady to take him to some shade, put his shoes on (which I'd handed to her and he hadn't yet tossed out the window), and not let go of him because he might run away. I can only imagine what she must have thought about this child without arms, who didn't speak and who was traveling in only his shorts. Holding on to Kolya with no arms is complicated. Even if he had a shirt on, he could squirm out of it. However, she kept him seated at a picnic table a short distance away.
Then I quickly lowered the van lift and yelled at Kyle to get out. "Mom, my chair is belted to the floor!"
Oh yeah, I thought as I quickly scrambled up on the lift to unfasten the tie downs and get him out of the van. At least he could drive his chair away from the van and take care of himself.
Ben wasn't even in his wheelchair: he was propped up with a bunch of pillows and belted onto a large bench seat in the back. I quickly grabbed a sleeping bag and threw it on the sidewalk, climbed through the back doors and unfastened Ben's seatbelt. By this time there were some truckers around and I was able to lift Ben's stiff body over the back seat and hand him to one of the men while I gave instructions to place him on his back on the sleeping bag. I also became aware that some truckers were using fire extinguishers to put out the fire in the motor.
Once I got Ben out, I hopped back in, unbelted his wheelchair and quickly rolled it out the side door where the lift was lowered (his chair was manual and didn't weigh 300 pounds like Kyle's).
Was it safe to jump back in the van to get my purse, I wondered? What about my $6,000 hearing aids that were on the motor cover? Whether it was safe or not, I did it. Now we were all safely out of the van, in Arizona, in the middle of nowhere, on a Sunday afternoon in 115 degrees heat.
Great.  Now what? I need to focus on the situation here, I told myself.
Once I got my thoughts together, I lifted Ben off the sleeping bag so I could put him in his wheelchair. The black vinyl upholstery was already blistering hot and I was afraid I would burn his legs and arms but I didn't have much choice of what to do. Once in his chair, I pushed him over to the picnic table where Kolya still sat in a little shade with the lady who, basically, saved us. I thanked her for helping with Kolya.
"What will you do now with these children?" she asked.
"I honestly don't know. I guess get my van fixed and then continue my trip", I spoke as I choked back some tears. I really didn't have any idea how far we were from anything, but I would soon find out.
Someone had called the local volunteer fire department and a group of firefighters and rescue squad members had arrived in their personal vehicles to help in whatever way they could. I tried to stay calm but had no idea how I would transport my sons to a hotel, let alone how to finish our trip home. I didn't want to believe what the men around us seemed to be saying ~ that my van was ruined beyond repair. I couldn't understand most of them even when I put my hearing aids on. All I could hear was the rumbling of the big trucks parked nearby. I had to depend on what Kyle told me.
I texted the pastors at church to see if they knew anyone in the area but they were in the middle of Sunday evening services and no one responded. Kyle tried to call with his cell phone, but got the same response – no answers. We were stuck in this incredibly hot place for almost three hours with the volunteers from the fire department.
Kyle was my "interpreter" in situations like this, and I could speechread him most of the time. He talked up a storm and made friends but I was sort of reluctant because most our "rescuers" were half drunk having brought their cans of beer along for our emergency. I was also worried about my teenaged son because of a woman who stuck around the entire time. She was big busted, wore a low cut, bright red tank top, and no bra. I was certain he would get a couple of good glimpses at her breasts and I wasn't ready for him to be exposed to such things. When I asked him recently what he remembered about this event, he said he remembered the lady yelling, "Your van's on fire!" He didn't recall the lady in the tank top, thank heavens. Actually, everyone was nice and wanted to help.
The fire was restricted to the engine and fuel line, so my four new tires and all of our belongings were undamaged. I had some snacks to hold us over, but Kolya was struggling with the heat (many amputees become overheated more easily than people with all their limbs). I tried to keep him hydrated with ice from the food cooler. The heat also affected Ben. It was easy to pour water through his feeding tube but his mouth was constantly dry.
After a couple of hours, Kyle and some of the people who had stuck around drinking their beer decided it would be best to load him and his wheelchair into the back of a pickup truck using our motorcycle ramps (I carry ramps in case of emergencies when I travel). Then, we could put Ben's chair in the back of the pickup and sit him on the truck seat. Kolya would be easy to handle since he could walk and sit but he was hungry and tired and becoming difficult because of his autism. The driver of the pickup (husband of the large busted woman in the tank top) said he'd drive slowly and carefully with Kyle in the back. We aren't talking about a two or three block ride: it was something like 20 miles to get to a hotel. Kyle was game for this but another man said it was definitely illegal and also very dangerous. Unknown to me this man had reached a company with a wheelchair accessible bus and it was on its way to take us to the hotel. And someone else had arranged to have the van towed to a Ford dealer. I was relieved, but I understood Kyle's disappointment as he drove his chair down the motorcycle ramps to transfer from the truck bed to the bus – he'd been ready for a real adventure.
When we got to the hotel I asked about the charge for the wheelchair bus. Blessed news, it had already been taken care of and I never knew whom to thank for that generous act. It was late and there were no restaurants open but at least I had some clothes, medications and Ben's feeding supplies from the van. I hit the vending machines for our late dinner. What a night I was in for. I was to be at the Ford dealership early in the morning but my flashing light alarm clock was in my van. How would I know when to awaken? Kyle could hear but once on the bed he couldn't move to wake me up. I was close to despair when an important text message came in just before I tried to sleep. It was from our pastor and said, "Marian, we will discuss the church buying you a new van as soon as you get home." I cried tears of exhaustion, frustration, and joy.
Kyle made phone calls the next morning as we tried to decide how we could continue our trip back home. School was to start in two days and we still had a 9-hour drive to go. Nearby there was a small airport that had some rental cars: the person Kyle spoke with said they had a cargo van. GREAT! A cargo van would work and I'd be able to get Kyle's power chair in using the motorcycle ramps. So, off to the airport Kolya and I went while Ben and Kyle stayed behind at the hotel. My heart sunk to my stomach when I saw what they referred to as a cargo van. "There is no way I can get those two wheelchairs in this van," I whined.
The lady tried to convince me other people had used this van and put their wheelchairs in the back. I explained that ours were not the typical manual chairs that can be folded and put in the trunk of a car. Kyle's was a 300-pound power chair that can't be tipped and Ben's was constructed with a special seating insert and can't be folded. By this time, I was in tears trying to decide what to do. To me a cargo van was like my first Ford Ecoline that had nothing in it other than two front seats. This van had seats in the middle that folded down and storage space in the back. I asked the lady if she could make some phone calls for me to find a U-Haul truck to put the chairs in. She made the calls but none were in the area. Bad luck. I was stuck with this "cargo" van that really wasn't a "cargo" van!
On the way back to the hotel, I stopped by the Ford dealership to get my motorcycle ramps and some pillows. Brave Kyle said he could fit in the back: he drove his chair up the ramps while I fretted until he made it in. He managed to get his chair in but he couldn't sit up because the back of his head was touching the ceiling and his switches were a mess on his headrest. The only choice we had was to leave the chair in there and get him out. I struggled to get his body out of the chair, carry him around to the front seat and belt him in there. He was no lightweight baby any more but a much heavier teen. All the while I kept Kolya in my line of vision to make certain he'd not take off for some adventure only he would enjoy.
Then it was what to do with Ben and his chair. I worked for an hour trying to maneuver these two chairs around, take the wheels off Ben's to make it fit, lift, maneuver, take out, start again, and silently cuss AND all the while make sure Kolya didn't run away (never let your guard down with Kolya!). Sweat made my glasses slide down my nose and I couldn't push them up because my hands were too busy trying to fit the chairs in a too-small space. I couldn't leave the middle seats folded down because I had to put Ben and Kolya in there somewhere. Ironically, the man who owned the hotel used a wheelchair and many times said to me, "I'd be sure to help you if I could." I just wish he'd have offered to let me drive home his nice wheelchair van that was parked in the handicap parking place and bring it back the next day!
At last the chairs were in, the few things we'd brought for the night were in and the guys were in. Of course only Kolya and I could get out to use the restroom on the way home. Well, I'd deal with that problem when I had to. We stopped to say goodbye to our burnt van and I got as many things out of it as I could fit into what we had to drive. Sadly, I had to leave behind some things I wish I could have kept.  After two hours of loading in another day of 115-degree weather, we continued our journey home.
With Kyle in the front passenger's seat (not something he had done before), he decided I needed to tune in the radio so they'd have something to listen to. It's easier to speechread in the rear view mirror when driving than to speechread someone sitting in the passenger's seat. At least that's true for me. So, the challenge of finding how to turn on the radio, learning how to change stations, finding the one he wanted and then adjusting the volume was about all I could handle. I get so frustrated and angry with radios! But at last I got it right and that kept him quiet for a short time.
Need I remind you that neither Ben nor Kyle can sit independently? I had done my best to prop them in with pillows, put duffle bags under Ben's feet to help keep him from sliding and not place things where his arms might get stuck. We'd been on the road no more than an hour when Kyle started complaining about pain in his legs and that his feet were numb. With no rest areas in sight, I pulled over along the road, walked around to his side and tried to readjust his position to allow come circulation in his lower limbs. Then, I'd reposition Ben. Kolya, who was accustomed to sitting in front with me while we traveled, was now in the back where I couldn't reach him to give him fluids to keep him hydrated. So, I added him to the routine, which took place about every hour and a half. Then off we'd go again.
Of course, we got hungry and had to stop and eat. Again, Kolya and I were the only two who could get out, stretch, and use the restroom. Kyle and Ben had to suffer and wait. I thought we'd never arrive home! But about twelve hours after we started the last leg of our trip in a not-so-cargo-cargo-van we pulled into the driveway at home. It was late and everyone was in bed. I quietly put Kolya to bed first (remember he's the easy one because he can walk). Then, I grunted, huffed and puffed and pulled Kyle off the front seat. Getting a good grip to carry him was tough but I managed to get him through the front door and carry him to his bedroom. He was so thankful we made it home so he could use the bathroom and be in his own bed. Then, I went back to get Ben. Kyle and Ben weighed about the same at that time but Ben is much easier to carry because of his body shape. Kyle's body is pretty much folded in half because of the severity of his arthrogryposis and the person carrying him just can't grab him under the arms and pick him up. Ben's body is straighter and I could throw him up over my shoulder and see better where I was walking. The biggest problem was he's about the same height as me so I had to be careful not to trip on his feet going up the ramp toward his bedroom. Once I had all three taken to the bathroom and in their beds, I crashed on the couch.  A couch never felt so comfortable! The wheelchairs and all our belongings would just stay in the van for the night.
How Kyle and I managed to get his chair in the rental van is beyond me. It took three people to unload that chair the next morning. The pastor began the process to involve the church in raising funds to replace the burnt van. Within weeks, I had ordered the van I drive today which meets the needs of transporting multiple wheelchairs at once. When I reflect on this experience, I'm thankful that things weren't worse. No one was hurt and because I didn't require adaptive controls, I could at least drive the rental van. I still was strong enough to lift and carry Kyle and Ben. I had Kyle along to help make phone calls and assist with communication. Kolya didn't run away. So many positives – and the rental van had good air conditioning.
As I write this, we are in the fourth day of a heat wave. Sometimes I complain about the heat but I should not. Believe me, these past four days don't come close to what we experienced on this journey.