Two years and ten months to the day, Donald, then 35, moved back home from a respectable group home where he'd lived for more than six years. The reason was some glitch with a fire marshal in the area of that city. His move back to our house was to be temporary but his stay got longer and longer.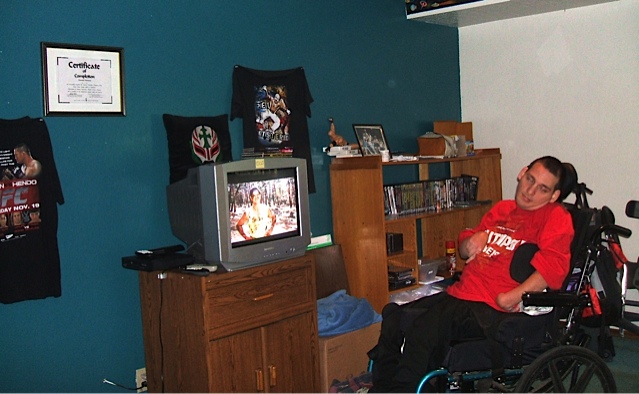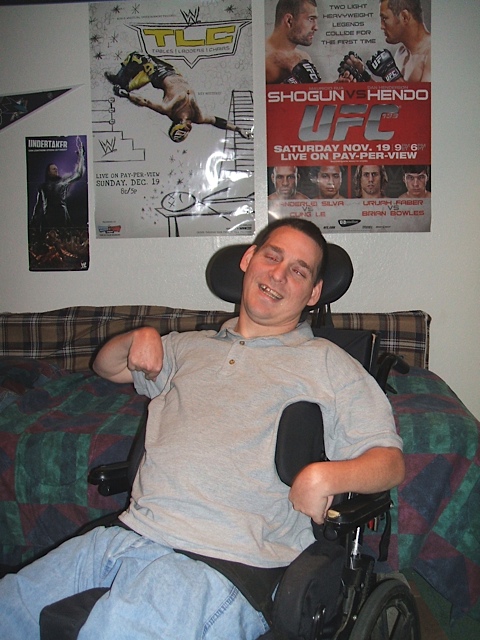 Two years and ten months ago was also the first time since Donald was adopted as a child that he had a large and private room to himself. For once, he was able to decide 100% what television shows and DVDs he wanted to watch and which radio station he'd like to listen to.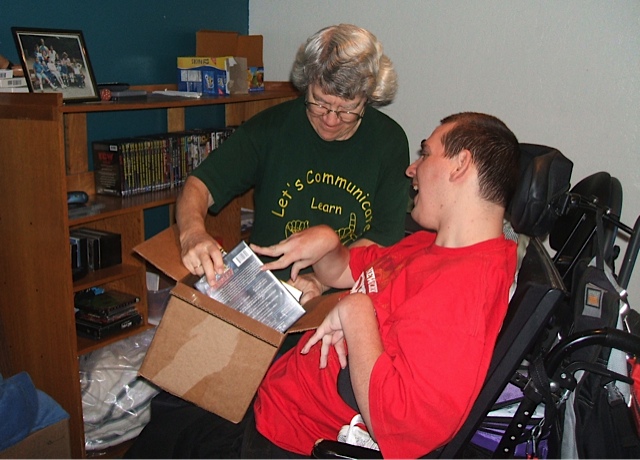 Last week I received an email from his social worker that told of an opening in a group home. Things moved along very quickly and tonight he will once again share a bedroom with a resident at the new group home. He will lose most of his privacy, not only because he will share his sleeping area, but also because the other residents must pass through to use the bathroom that is off his bedroom. His newly shared room is about the same size as his room – which was all his – here at the family home.
The new group home is located in a nice area but the house is very different from ours. Donald must enter through the garage because there is a small step at the front door that he can't navigate. The home has a nice living room with a large T.V. and couches. The kitchen is a fairly good size with a long table, small office area for the staff, and a small T.V. (which Donald probably can't see). The doorways are narrow and Donald's chair barely fits through. There is a nice backyard with patio and BBQ area. The residents can have summer meals outside. There are no carpets or rugs (licensing regulations). And I have to admit that the house is much cleaner and more organized than mine!
Donald has some adjusting to do and I do too. I'm not sure why the social worker felt Donald was a good match with the other residents in this particular group home. When I finally met some of the residents yesterday, I didn't see many similarities among them other than they, too, require care and supervision.  At 37, Donald is the youngest and only resident with cerebral palsy. From what I could tell, Donald seems to be able to make his needs known and carry on conversations at a higher level than his new housemates. I hope my observations prove wrong and that the other residents and Donald will be able to interact well together.
As with many of the group homes in this area, I find there's a language barrier between the caregivers, my sons and myself.  This is an enormous obstacle that weighs heavily on me emotionally. In some ways, I feel guilty placing my adult children in homes such as the one Donald just entered where the primary language spoken is not what we speak in our home, English. I find it difficult to force myself to visit my sons because I can't understand the speech of the caregivers who have heavy accents and many do not speak fluent English. However, it was Donald's decision to move into this home and I wish him well.
There were benefits for Donald and me when he moved back to our family home on a short notice. Once he was home, I became his primary caregiver and advocate, which I was not when he was younger (his father was). The last couple of years have enabled us to better understand each other.
Donald is not a small man and to meet his physical needs has certainly helped develop my upper body strength by shoving, pulling, pushing, and jacking a Hoyer lift daily. Maybe I'll have to start lifting weights to keep my upper body strength now that he's moved on. It's difficult to think there will be a time when I can't physically care for my adult sons. In Donald's case, I'm grateful he has found a home, and like an athlete, I feel I've gone out on the top.
I'm pretty sure I'll be seeing Donald around for holidays, birthdays, medical appointments and when he might want to come home for some home cooking!